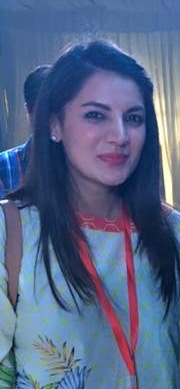 Ms. Shah is the features editor at Geo.tv. Previously, she was the deputy editor at Newsweek Pakistan. In 2013, Shah was awarded a gold medal by the United Nations Correspondents Association for her report on the polio murders in Pakistan. Her articles have been published in Newsweek.com, The Daily Beast, Foreign Policy, Al Jazeera, The Caravan, the Times of India. While her cover stories for Newsweek Pakistan include, among other, exclusive profiles of Pakistani President Mamnoon Hussain, and Chief Election Commissioner Fakhruddin G. Ebrahim; the phenomenon of female suicide bombers; terrorism and Pakistan's polio eradication campaign. She completed her Bachelor's in Film and Journalism from Beaconhouse National University in 2008.
Ms. Gardezi is an editorial cartoonist for The Nation, Pakistan where she has worked for the last 4 years. She has previously held the position of Op-ed desk Head and editorial writer at the same organisation. Additionally, she has been teaching courses in Economics and Politics at the Lahore School of Economics for 7 years and left her job as teaching fellow very recently. She was involved in course development and coached her students in debating activities.
A true academic, Ms. Gardezi completed her Bachelor's from LUMS in 2008, then earned a MA in International Political Economy from the University of Warwick and an Mphil from the University of Oxford in South Asian studies.